Student Advising
---
Welcome to the new Rahll Campus of Frank Phillips College in Dalhart!  We know it is exciting and a new adventure for you to be taking this step, and we are here to help you.  Your academic and future goals are very important.  Our advisors will guide you one on one so that you can achieve those goals.  You will begin with a degree plan that matches your goals, and it will be updated every semester to keep you on course until you complete your degree.  Upon completion of your Associate's degree we can help you transition into a Bachelor's degree at a four-year college or university.  We are here to Change Lives Through Education.
Call (806) 244-7669 to set up an advising appointment today.
Academic advising on our campus is under the direction of Christy Dovel, Provost of the Rahll Campus.
Meet the Team
---
Christy Dovel, Provost of Rahll Campus, cdovel@fpctx.edu 


Lexi Thomas, Director of Rahll Campus, lthomas@fpctx.edu 


Araseli Varela, Rahll Campus Office Coordinator, avarela@fpctx.edu


Ann Green, Student Resource Coordinator, agreen@fpctx.edu 


Mary Barker, Counselor, mbarker@fpctx.edu 


Mayra Ruiz, Evening Office Assistant, mruiz@fpctx.edu 


Autumn Hale, DLR Facilitator, ahale@fpctx.edu 


Valeria Delgado, DLR Facilitator, vdeldago@fpctx.edu
Contact Information
---
Address:
2890 FM 281, Dalhart, Texas 79022
Phone Number:
806-244-7669
Business Hours:
Monday - Thursday from 7:00 am - 6:00 pm
Friday - Closed
Summer Hours:
Monday - Thursday from 8:00 am - 4:00 pm
Friday - Closed
History
---
In 1946 the Borger Independent School District applied to the Texas State Board of Education for authority to establish a junior college.  Borger Junior College District was created by a vote of local citizens on June 15, 1946.
The college served primarily as a junior college offering arts and sciences courses until 1973 when the curricula was expanded to include vocational, occupational-technical, workforce development, and allied health programs, along with an extensive array of continuing education and community service courses have been added to the curricula.
During the 1970's Frank Phillips College established off-campus sites in Canadian, Dalhart and Perryton, TX.   A few years' later telecommunications became a new avenue for learning.  DECANET became the network system for the four schools and off campus microwave programs began.  The college would begin offering continuing education, academic, vocational and concurrent classes to Dalhart.  This was only the beginning of the changes and growth of Frank Phillips College in Dalhart.
As time passed changes took place and there came a new awakening for the people of Dalhart.  The agricultural industries had taken an interest in the Dalhart area and employment opportunities were abundant.  The sleeping giant was aroused and people who never dreamed of obtaining more education began to realize that Frank Phillips College could offer education to them which would change their lives with the new job opportunities available.  People from all walks of life and of all ages came for education.  Agriculture industries had a need for accommodations for the Continuing Education classes they needed and Frank Phillips College provided a place for them.  New community services were provided by the college.
Support for Frank Phillips College has grown and has created a need for more diversified instruction.  Frank Phillips College has become a vital part of the much needed educational explosion, so much so that two counties have joined together to support a new building and campus so generously funded by a local donor.
Leaders, men and women with vision, have joined together to expand the meaning of our motto, "Right for You. Right Here. Right From the Start."  We are "Changing Lives through Education."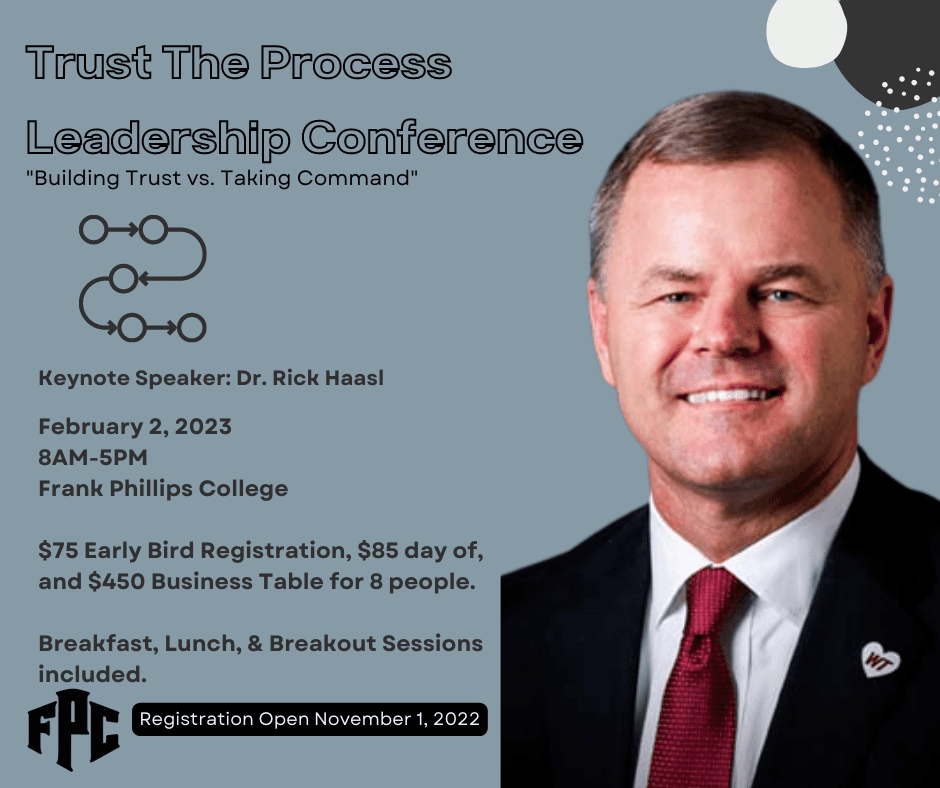 Student Resources
If you have a question or need additional assistance please let us know.
Below, you will see a list of frequent needs of our students and the point of contact for each.
Are you looking to reset your student portal or email password? We want to help students make this transition process as easy as possible, to reset your password please visit the link below and we will complete the requests in the order they are received.
Phone Number: 806-244-7669
November 9-11

Class: TCOLE #2109 Spanish for Law Enforcement
Instructor: Sgt. Ginter, Borger PD
Location: Allen Campus, Perryton
Time: 8 am to 5 pm (8 am to 12 pm on the final day)

Status: 15 spots available.

Contact: Bethany Kile
Email: bkile@fpctx.edu
Phone: 806-457-4200 ext. 644

November 29

Class: TxDOT Truck & Bus Enforcement Trianing
Location: Borger Police Department, 430 N Deahl St.
Time: 7:30 am to 9:30 am OR 4:30 pm to 6:30 pm

Status: Free 2-hour Training

Contact: Sgt. Ginter, Borger PD
Email: dginter@borgertx.gov
Phone: 806-273-0939
- Follow Us on Social Media -
The accreditation of all FPC locations is dependent on the accreditation of the parent campus located in Borger, TX. 
Frank Phillips College is accredited by the Commission on Colleges of the Southern Association of Colleges and Schools to award associate degrees.
Contact the Commission on Colleges at 1866 Southern Lane Decatur, Georgia  30033-4097 or call (404) 679-4500 for questions about the accreditation of Frank Phillips College.