A Student Support Service Program that is designed to create a supportive atmosphere.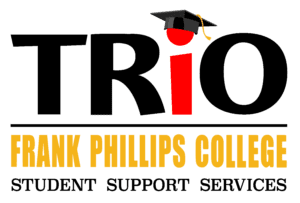 TRiO Goals
---
The Student Support Services program is designed to create a supportive and educational atmosphere that actively promotes retention and graduation for our participants. We strive to foster a welcoming academic environment where our students can accomplish their academic goals.
TRiO Services
---
Academic Advising
Time and attention are two of the greatest benefits you'll find when working with our TRiO SSS advisor. Students can meet with our advisor by appointment or by walk-in when available. Students are not limited to the amount of time they can spend discussing issues or special concerns. Many students will meet one-on-one with the advisor several times over the semester until their concerns are satisfactorily answered.
Career Counseling
Career counseling is provided to help students assess occupational goals, develop strategies for success in achieving career goals, and motivate students to accomplish such goals. Professionally developed occupation inventory and interest instruments, administered by a full-time counselor, are used to assess students' needs.
Tutoring Services
The TRiO lab is located across from the FPC library building. The lab has a tutor available Monday - Thursday, 8 a.m. to 8 p.m. and Friday, 8 a.m. to 4 p.m. Summer hours are Monday - Thursday, 8 a.m. to 8 p.m. TRiO is closed in the summer Friday through Sunday. TRiO SSS employs tutors in subjects that vary according to student needs. Tutoring can be obtained for every class offered on the FPC campus.
Ask a Tutor
The TRiO tutors are a dynamic group of qualified students who have demonstrated mastery of the subject areas they tutor. Most TRiO SSS tutors have previous tutoring experience and have worked extensively with the TRiO SSS student population. They are very approachable and receptive to questions, so there's no need to be intimidated.
Academic and Financial Seminars
Group and individualized sessions are offered to students who would like to improve their financial literacy and/or study skills. Seminars are offered several times throughout the year and focus on core areas such as applying for FAFSA and scholarships, and improving note-taking, listening, test-taking, and other study skills.
If you are interested in TRiO or would like to know if you qualify, please contact any member of our helpful staff and we will be happy to assist you.
Eligibility
---
Borger Campus Students who are U.S. citizens, nationals, or permanent residents (who have an I-151, I-551, or I-551C) are eligible for TRiO Student Support Services if they meet at least ONE of the following qualifications and are able to demonstrate academic need:
Low-Income: Qualify under federal financial guidelines (similar to Pell Grant eligibility)

First-Generation College Student: Neither parent (or guardian) completed a four-year college degree before the student's 18th birthday.

You have a documented physical or learning disability
Please contact any TRiO staff member if you have any questions concerning eligibility.
TRiO Application
---
Becoming a member of Student Support Services is simple. Just follow these steps!
Step 1. Complete the Application: You will be asked to complete an initial application to help verify that you are eligible for TRiO Student Support Services. You can pick up an application at our TRiO Front Desk or submit the application found online by clicking the button above.
Step 2. Visit with an SSS Counselor : Once you have completed the application, please make an appointment with our TRiO Academic Advisor, Brittni Smith, who will help to verify that you are eligible for TRiO Student Support Services. This initial interview will provide you with detailed information about your eligibility and the services that we provide.
Step 3. Attend the TRiO Orientation : TRiO orientation is usually held the first week of September and will allow students to meet the TRiO staff, sign-up for upcoming cultural events, and receive a planner filled with all of our upcoming seminar dates.
Step 4. Receive Free Tutoring : The TRiO tutoring lab is open from 8-8 Monday through Thursday and 8-4 on Friday during the Fall and Spring semesters, and from 8-4 Monday through Thursday during the summer. Students may make appointments to meet with specific tutors, or they may simply walk in and ask for help. All tutoring services are offered free of charge to TRiO students.
Our goal is to help students succeed academically, professionally and socially. We assist students to stay in school, graduate and move on to continue their education and/or find fulfilling career paths. All services are free.
Don't hesitate to ask us something.  Email us directly at trio@fpctx.edu or call us at 806-457-4200.  You can also schedule an appointment with us.
Fill out the convenient form below to send us a quick email.
Regular Hours:
Monday - Thursday: 8:00 a.m. - 8:00 p.m.
Friday: 8:00 a.m.- 4:00 p.m.
Summer Hours:
Monday - Thursday: 8:00 a.m. - 4:00 p.m.
Friday - Sunday: Closed