Nutrien Partners with FPC Agriculture Department
October 20, 2021
/
/
Comments Off

on Nutrien Partners with FPC Agriculture Department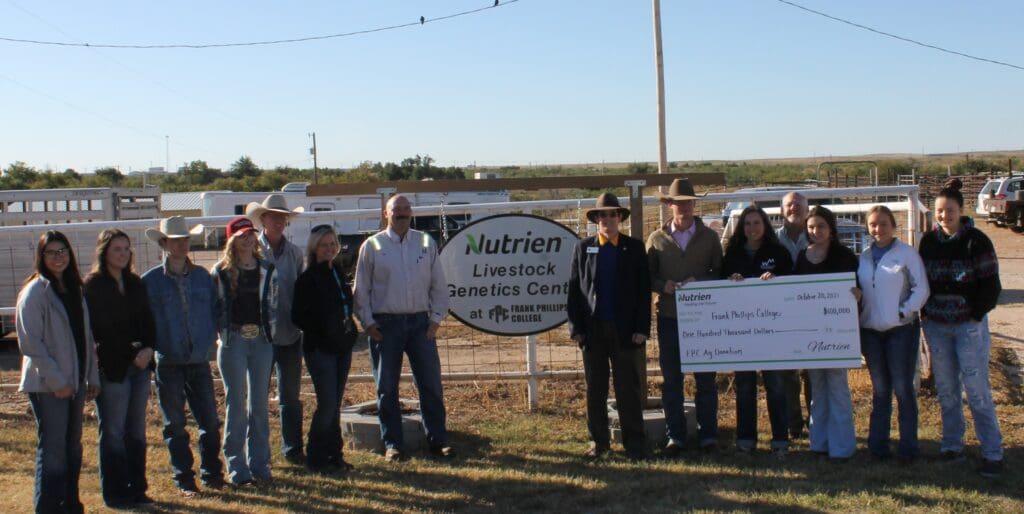 Frank Phillips College AG Department is growing through the support of Nutrien and its Borger Nitrogen plant. The Borger facility graciously donated $100,000 over two years to support the creation of the Nutrien Center for Agriculture and to fund scholarships for local agriculture students in Borger and the surrounding areas.
Through this partnership, FPC and Nutrien are also working together to create internships at Nutrien to support industry learning opportunities and long-term careers in agriculture.
On Wednesday, October 20th, Kelley Payne, Learning, Development and Community Investment Coordinator at Nutrien, and Bryan Triplett, General Manager of Nutrien's Borger plant, visited the Borger FPC campus to present a check to the department. Fittingly, this presentation took place outside of the new Nutrien Livestock Genetics Center that was donated and rebuilt in 2020. The check was presented to Dr. Housewright, the Ag Director, and Dr. Glendon Forgey, FPC President, along with eight current agriculture students within the department.
We look forward to the continued partnership opportunities between FPC and Nutrien as well as the growth of the department through the 2021-2023 school years. There are multiple objectives that will take place as early as this spring including building out our programs in more depth and also adding a Cattle Show Team to travel and show Beefmasters we raise in-house.