What is Frank Phillips College Community Connect?
Community Connect is the Dalhart Community Education Program.  Continuing education classes are offered in the community as well as online.  Community Connect includes classes in the arts, business, and education, as well as classes and camps for kids ages 18 months through adults of all ages.
Community Connect is jointly funded by these partners:
Dallam County
Hartley County
City of Dalhart
Dalhart ISD 
Dallam-Hartley Counties Hospital District. 
 Community Connect would not exist without their generous support.  
Community Connect also relies on donations from individuals and businesses who help to pay for student scholarships and camps.
Can I come to classes if I don't live in Dalhart?
Absolutely!  Classes are offered to residents of Dalhart and surrounding areas, their families, and visitors to Dalhart.
American Sign Language for Beginners
Come learn American Sign Language!
Dates: This Class is EVERY Tuesday and Thursday in September
Time: 7:00 PM - 8:00 PM
Location: Frank Phillips College - Rhall Campus in Dalhart
Instructor: Jamie Thompson
Cost: $40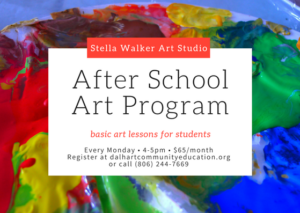 Stella Walker Art Studio After School Program
Students will draw, learn calligraphy, work with macrome, and paint on a variety of surfaces; rocks, canvas, glass, plastic, wood, etc. ALL supplies are included in the class fee.
Dates: Every Monday during the school year
Time: 4:00 PM - 5:00 PM
Location: Stella Walker Studio
Instructor: Stella Walker
Cost: $65 a month per child
Prenatal & Postpartum YOGA
Dates: Monday and Wednesday evenings beginning September 5th
Time: 5:30 PM - 6:30 PM
Location: Frank Phillips College - Rhall Campus in Dalhart; Multi-purpose Room
Instructor: Rachael Galdean
Cost: $5 per class
Community Connect Schedule
New classes are added regularly!  Check back to see other enrichment opportunities!
Have a class idea? Questions? Contact Us!
Phone: 806-244-7669