TRiO offers extra help on campus
By Cristian Avila
Plainsmen Post Staff
TRiO student Dyllan Drennan said that the organization is a "life saver."
"If you live out of town, when you need to print (a paper) or forget your books at home," Drennan said.
TRiO is an organization on campus that provides students with many services that will ensure their success. Though not everyone is eligible to join. The requirements for membership, and you only have to meet one, are: first generation student, exemplify a financial need, or have any kind of physical disability. Students who wish to be apart of this organization or to find out if they're eligible can pick up an application in either the TRiO building or in the financial office and turn it into either TRiO directors or tutors.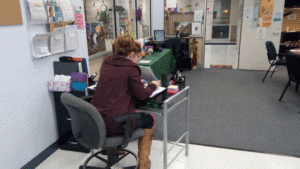 TRiO is located to the left as you enter the ARC building by the cafeteria. The organization offers computers, printers, and many books needed for classes available for use during lab hours. Students also can take part in free seminars each week.
 Though it's not just all work and no play here. TRiO also offers an area for students to relax, nap, or hangout with friends between or after classes.
"With stress that comes along with college life it's nice to be able to come in and relax and TRiO offers that," current member Kathy Grantz said.